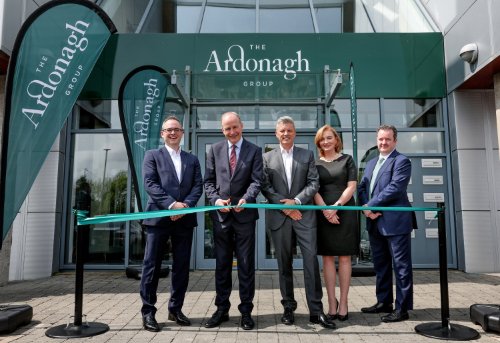 The Ardonagh Analytics Lab, part of the global insurance distribution platform, The Ardonagh Group, moved into its new state-of-the-art office in Mullingar as part of its ambitious expansion strategy.
The lab, which provides insights for Ardonagh's set of international businesses, first opened in 2021, with support from the Irish Government through IDA Ireland. The Analytics Lab currently employs 30 people across a range of highly skilled roles and plans to double its workforce to its target of 60, as announced at launch, over the coming years.
This expansion in workforce will help meet the growing demand for data-led insights across Ardonagh's global network, which has nearly 10,000 people across 150 locations. In Ireland, The Ardonagh Group is represented by Arachas, the country's largest insurance broker, with over 650 employees nationwide.
At a ceremony to mark the start of a new chapter for the lab, Tánaiste Micheál Martin outlined the increasing importance of regional hubs like Mullingar to support Ireland's FDI ambitions and described the lab's success as a clear demonstration of how the Irish tech talent pool can drive remarkable outcomes for international businesses.
The ceremony was also attended by IDA Ireland representatives, local politicians and business leaders, including Kieran Donoghue, Global Head of Strategy, Public Policy & International Financial Services, IDA Ireland, Shane Keating, Chief Data Officer, the Ardonagh Analytics Lab and David Ross, CEO, The Ardonagh Group.
Shane Keating said that the continued expansion of the Analytics Lab, is testimony to The Ardonagh Group's commitment to providing high-quality local employment opportunities.
Shane Keating, Chief Data Officer, Ardonagh Analytics Lab said:
"The Analytics Lab has come a long way in two years when we set out with one goal; to use leading edge technology, including Big Data, Machine Learning and Artificial Intelligence, to deliver analytics and data insights for our businesses, their customers and insurance partners.
"As Ardonagh has grown, welcoming new international firms to the Group and expanding its reach across continents, so too has the remit and capability of the Analytics Lab.
"Alongside supporting homegrown Irish businesses such as Arachas, we're now working with more recent entrants to the Group, including Australian based Envest, and it's gratifying to see that our scope is now truly global, stretching all the way from Mullingar to Brisbane.
"Our world-class insights are driven by the expertise of our people and as we begin the next exciting chapter of the Analytics Lab, I look forward to welcoming more talented experts to the team and exploring the many possibilities they will bring."
Tánaiste Micheál Martin said:
"The Ardonagh Analytics Lab is a great example of a business that has achieved remarkable results thanks to the unique and unrivalled pool of expert talent we have here in Ireland.
"Since its launch, the Lab has gone from strength to strength and has supported job creation in the Midlands by expanding its team and its capabilities to offer a valuable service to its businesses across the world. I wish Shane and the team every success as they embark on the next stage of this exciting journey."
Kieran Donoghue, Global Head of International Financial Services at IDA Ireland said:
''Today's official opening of Ardonagh's Analytics Lab in Mullingar and the company's commitment to offering highly skilled employment opportunities in the Midlands is a very significant development. The investment represents the achievement of a key milestone in the company's business development plan and emphasises Ireland's attractiveness for FDI and IDA's ongoing commitment to investment in the regions. I wish the team at Ardonagh continued success.''