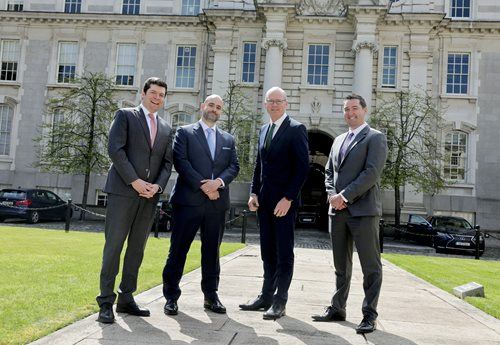 DUBLIN – May 3rd, 2023
– Fragomen, the world's leading provider of immigration services, celebrates the five-year anniversary of its Dublin office. During this time, the office has experienced meaningful growth parallel to its clients' growth in the post-Brexit era and Ireland's positioning as a global business hub. Over the five-year period Fragomen Ireland has created 80-plus Irish jobs and anticipates further job creation in the next two years, especially as FDI companies continue to expand their presence and operations in the country.
Fragomen established its office in Dublin in 2017 in response to increased client needs related to Ireland's favourable business environment. Fragomen was also able to strategically assist foreign direct investment companies with talent relocation and acquisition from an immigration perspective.
The Dublin city centre office, composed of a specialist team of immigration professionals at all levels, provides the full suite of Irish corporate and personal immigration services, and the development of customized and compliant immigration programmes to a wide range of clients including multinational, Fortune 500 and emerging companies across a variety of sectors, including financial, tech, healthcare, manufacturing, hospitality, sports and more.
Additionally, in line with the firm's longstanding commitment to diversity, equity and inclusion, Fragomen Ireland has established successful initiatives to help ensure each of the office's 80-plus employees feel represented and included. With 23 nationalities and over 25 languages spoken, Fragomen Ireland is a microcosm of the global organization.
Speaking on the announcement,
Minister for Enterprise, Trade and Employment Simon Coveney TD said:
"Congratulations to the Fragomen team on reaching their five year milestone in Ireland. Having already created over 80 jobs, and with plans to see this number increase over the next few years, it is great news for all involved. Fragomen provides a range of essential immigration services on a global scale, which is hugely important in a world where travel and movement of people is on a scale like no other. Ireland continues to attract FDI to our shores due to our EU Membership, location and hugely talented workforce, which makes Ireland an obvious location for Fragomen to expand their European presence. I wish all the team the best in the future."
Michael Lohan, CEO, IDA Ireland said:
''I wish to congratulate Fragomen on its fifth year of operating in Dublin and indeed the commitment the team has made to Ireland in employing over 80 immigration service professionals since establishing here. I wish Fragomen continued success in the years to come.''
"We are incredibly proud to celebrate five years of success in our Dublin office, which has included extensive collaboration with Ireland's robust business community. We provide crucial immigration support to our Ireland-based clients and international companies that thrive in the country's supportive economic climate and increasingly streamlined business immigration system. As we execute bold growth plans and introduce exciting innovations, we look forward to continuing to serve as trusted advisors to our clients in the immigration and global mobility space." said
Ángel Bello Cortés, Partner and head of Fragomen's Dublin office.
About Fragomen
Fragomen is a leading firm dedicated to immigration services worldwide. The firm has 6,000 immigration professionals and support staff in more than 60 offices across the Americas, EMEA and Asia Pacific and offers immigration support in more than 170 countries. Fragomen's professionals are respected leaders in the immigration field, and the firm is regularly recognized as a leading employer of minority and female professionals. The firm has been recognized by a number of organizations, including Chambers Global, UK and USA, and the Forum for Expatriate Management as "Immigration Provider of the Year" in EMEA, Americas and APAC.
The firm supports all aspects of global immigration for corporate, academic, nonprofit, and individual clients, including strategic planning, quality management, reporting, case management and processing, compliance program counseling, representation in government investigations, government relations, and complex matter solutions.
Fragomen is a long-time leader in the immigration technology space and continues to lead the way in the digitization of the immigration journey. It has created Fragomen Technologies Inc., a Fragomen subsidiary focused on the nexus of immigration services and technology to further enhance its technology offering.
These capabilities allow Fragomen to work in partnership with individuals and corporate clients across all industries to plan talent strategy, facilitate the transfer of employees worldwide, and navigate complex challenges. For detailed information about Fragomen, click
here
.