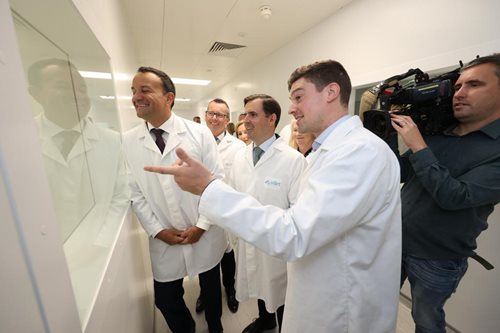 NIBRT, a global leader in biopharmaceutical manufacturing training and research, announces major extension project.

Extension will enhance Ireland's global position in biopharma manufacturing and help attract new high value jobs in the new area of advanced therapeutics; which includes cell and gene therapies, mRNA-based therapies and other novel vaccines.

Tánaiste Leo Varadkar and Martin Shanahan, CEO of IDA Ireland officially launch construction of NIBRT's new state-of-the-art advanced therapeutics research and training facility.
Tuesday, 13th September 2022: The National Institute for Bioprocessing Research and Training (NIBRT) has commenced construction work on an ambitious expansion of its existing facility in Dublin, Ireland. This expansion will increase NIBRT's capacity and capability to conduct manufacturing-focused research and training in advanced therapeutics. Advanced therapeutics is a category of innovative biological medicines that includes cell therapies, gene therapies, mRNA and DNA-based therapies and vaccines, and other novel vaccines.
Tánaiste Leo Varadkar and Martin Shanahan, CEO of IDA Ireland attended today's announcement at NIBRT's facility in Dublin. The construction of this extended facility is expected to be complete and the facility operational in the second quarter of 2023. The new facility will accommodate around twenty-five new researchers and training staff and will serve new and existing NIBRT clients by providing research solutions to manufacturing challenges and staff training in the manufacturing of these highly innovative and complex medicines.
This €21 million project is funded by the Irish Government through IDA Ireland and incorporates 1,800 m2 of new space, including five research laboratories and state of the art training suites, into the existing NIBRT facility that will be dedicated to advanced therapeutics.
Tánaiste and Minister for Enterprise, Trade and Employment Leo Varadkar TD said "Ireland is fast becoming a world leader in advanced therapeutics, the really high value, highly skilled work involved in making new vaccines and new treatments for rare and devastating diseases. In order to keep pace with what is always going to be a fast-developing area, we need to continuously invest in cutting-edge research and training for our workforce, so they can compete with the best on an international stage. So, I'm really happy to announce the start of this expansion today. The Government is investing €21m, which will give us five new research labs, two new training suites and accommodate 25 new researchers. The work being done here will make a real difference to thousands of people's lives."
Speaking at today's announcement, NIBRT CEO Darrin Morrissey commented "The role of NIBRT is to help the growth and development of the biopharma manufacturing sector in Ireland by providing cutting edge training and research solutions. NIBRT intends to further enhance our current capability by becoming a leader in the pioneering and fast-evolving area of advanced therapies and vaccines.
It is an immensely exciting time for NIBRT. With this expansion, we expect to deliver training for many more potential and newly-hired biopharma staff, as well as considerable growth in our research activities. This has the potential to rapidly enhance Ireland's standing as a location of choice for advanced therapy and vaccine manufacturing."
The Irish biopharma industry continues to go from strength-to-strength, with over twenty new biologics manufacturing facilities developed across Ireland over the last decade and in excess of €12 billion in capital investment. The sector now supports over 40,000 high quality jobs with a diverse range of new opportunities currently available with the world's leading biopharma and biotech employers.
Advanced therapeutics, also known as Advanced Therapy Medicinal Products (ATMPs), treat diseases at molecular level and represent a potential step-change in the personalisation of treatment and in the treatment outcomes. For example, cell therapy is a medical approach that aims to introduce new, healthy cells into a patient's body to replace diseased or missing ones. While gene therapy treats or prevents disease by correcting the underlying genetic problem that causes the disease. Delivering these treatments to patients has the potential to offer tremendous therapeutic benefits, in some cases even a cure, in previously intractable illnesses like cancer, diabetes and neurological conditions. However, the manufacture of these highly sophisticated therapies is highly complex and producing them in a cost-effective and safe way presents unique challenges.
Martin Shanahan, CEO IDA Ireland said "The expansion of NIBRT to respond to innovation in the sector greatly adds to Ireland's reputation as a global location of excellence for next-generation biopharmaceutical products. IDA Ireland continues to partner with and support NIBRT to ensure that Ireland is well positioned to support companies in these emerging advanced therapeutic areas. Cell & Gene therapy is a core pillar in the developing field of Advanced Therapy Medicinal Products (ATMPs) which is widely considered as the next generation of pharmaceutical therapies. These products require highly innovative approaches to manufacturing and offer unparalleled opportunities in the treatment of disease."
NIBRT has pulled together a team of global experts to develop the new facility, with PM Group having designed the extension, Sisk delivering the construction works and BPE Biopharma Engineering manging the overall project. The new facility will be open in quarter 2 2023 and information on NIBRT's advanced therapeutic-related services and programmes can be located at https://www.nibrt.ie/atmp/