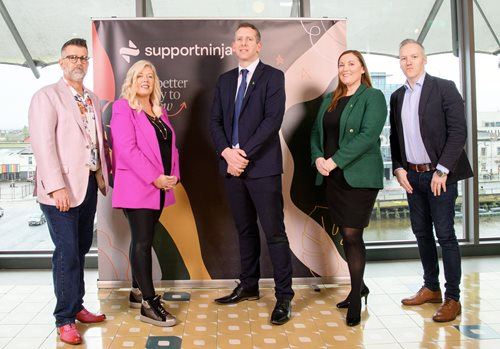 DALLAS, 28 March 2023
- SupportNinja, an award-winning, Dallas-headquartered business process outsourcing company, has announced the establishment of a new CX Centre of Excellence in Cork City. This expansion is expected to create 50 jobs over the next three years.
Founded in 2015, SupportNinja helps fast-growing companies scale by connecting them with global talent to support them with an array of outsourced services, in a sustainable manner. These services include omnichannel customer support, technical support, content moderation, data processing and various professional services. With close to 200 clients worldwide, SupportNinja employs almost 3,000 people across its locations in the US, the Philippines, Romania, and now Ireland.
This project is supported by the Irish Government through IDA Ireland.
The Minister for Enterprise Trade & Employment, Simon Coveney, said:
"I am really pleased to see that SupportNinja have announced plans to open their new CX Centre of Excellence in Cork City. SupportNinja is an industry leader providing a range of vital services to numerous clients worldwide. The 50 new jobs are very welcome, and a real vote of confidence in Cork City and its talented workforce. The Government is supportive of all investment to regional areas and today's announcement shows that Ireland consistently attracts the very best foreign direct investment to our shores. I wish the team at SupportNinja every success in this exciting new chapter. The very best of luck."
Mr. Craig Crisler, the Co-Founder and Chief Operating Officer of SupportNinja
, expressed confidence in the potential of the Irish workforce and prospects on the ground. "We are thrilled to announce the opening of our new CX Centre of Excellence in Cork, Ireland in partnership with IDA. This centre will enable us to provide even better support for our customers, and further our commitment to delivering exceptional customer experiences.
"Ireland was a natural choice for us, given the country's commitment to innovation and an exceptional workforce. We are excited for the opportunities this partnership with IDA will bring and look forward to continuing to invest in the Irish community," said Mr. Crisler.
The CX centre in Cork will manage functions across customer success, multilingual customer support, key account management, sales, marketing and engineering. To explore opportunities to join the SupportNinja team in Cork, visit
www.supportninja.com/careers
.
Interim CEO of IDA Ireland Mary Buckley said:
"In December of last year, IDA Ireland published its annual results, and announced that the numbers directly employed in the multinational sector in Ireland had reached the highest Foreign Direct Investment (FDI) employment level on record. More than half of the investments won by IDA in 2022 went to regional locations. SupportNinja's decision to create these opportunities in Cork demonstrates IDA Ireland's sustained commitment to winning jobs and investment for every region of the country."
For further information, please visit
www.supportninja.com